Welcome to Family Travel Bloggers!!
On this page, you will learn more about our family (Ricky, Anne, Rianne, and Ryan) as well as some of our travel adventures.
Ricky Shetty is the owner and operator of the popular family-friendly website DaddyBlogger.com, where he writes about parenting from a father's perspective as well as the founder of Family Travel Bloggers, a website created to inspire families to travel more with their kids. Ricky is a passionate entrepreneur creating multiple online and offline businesses as well as a lifelong adventurer having traveled to 50+ countries before he turned 30 years old.
Here's more about Ricky & Anne's Travel Adventures before getting married.
Ricky Shetty was born and raised in Vancouver, Canada. During University, Ricky did a Working Holiday Visa in London, England backpacking around Europe and the Middle East. After graduating, Ricky taught English in Tokyo, Japan for 1 year and then backpacked through South-East Asia. Ricky arrived in Australia on a Working Holiday Visa and then spent 2 more years studying in Sydney, Australia then traveled through the North and South Islands of New Zealand and then traveled up the West Coast of the US from San Diego to Vancouver, Canada.
Anne Davis was born and raised in Manila, Philippines doing short trips around Asia. Anne moved to Vancouver, Canada on a Work Visa and then applied for Permanent Residence while living in Canada. She did a short work trip to Bangalore, India. Anne and Ricky met on the Greeting Team of Coastal Church in Downtown Vancouver. After dating for almost a year, Ricky proposed to Anne and 6 months later, they began their new adventure as husband and wife.
After getting married, Ricky and his beautiful wife Anne have done lots of traveling. Ricky proposed using a Flash Mob at YVR Airport, they got married on a boat known as The Wedding Yacht, and then they did a 7 day cruise to Alaska for their Honeymoon. They have 2 kids currently with their third child due in May 2016. Since having kids, Ricky and Anne have been to Manila, Philippines, San Francisco, California, and did lots of Road Trips through BC, Alberta, and Washington including Seattle, Whistler, Harrison Hot Springs, Bowen Island, Sunshine Coast, Okanagan, Salt Spring Island, Leavenworth, The Cascade Loop, Vancouver Island, Northern BC, Calgary, Manning Park, Tofino, and more.
Following the birth of their third child, Ricky, Anne, and their 3 kids will go on a 1 year adventure leaving Vancouver, Canada on July 1, 2016 and traveling through Central America (overland from Mexico to Panama) and South America (from Columbia to Chile down the West Coast and from Argentina to Venezuela up the East Coast). They started this Family Travel Bloggers website to document their travel adventures for themselves, their children, and other families. Ricky & Anne's goal is to inspire other families to travel more with their kids.
Here is a map of the 50+ countries we have visited so far!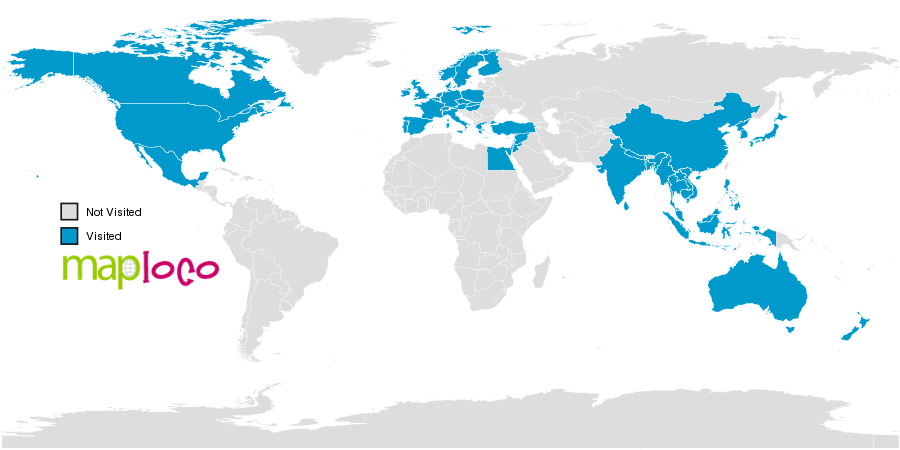 Create Your Own Visited Countries Map
Check out some of our Travel Videos below:
San Francisco, California
Nashville, Tennessee
Toronto, Ontario
Salt Spring Island, British Columbia
Leavenworth, Washington
Barkerville, British Columbia
Calgary, Alberta